THE BANDS
+ barenaked ladies
+ ben folds five
+ weezer
+ band of the week


THE EXTRAS
+ featured mp3s
+ geek-rock webring
+ links
+ contact us



HOME





Band of the Week...

...New Found Glory!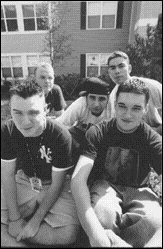 jordan pundzik...vocals
chad gilbert...guitar
steve klein...guitar
ian grushka...bass
cyrus bolooki...drums


NFG (who recently dropped the 'A' in front of their name) are a pop-punk band hailing from Coral Springs, Florida. They formed in 1997 and have since released 4 CDs: 'All About The Girls' EP, Nothing Gold Can Stay, From The Screen To Your Stereo (a CD of movie theme songs they covered), and their latest, 'New Found Glory'. They currently are going cross-country with the 2001 Vans Warped Tour.
I've only recently begun listening to these guys, but they are really, really talented. Their latest single 'Hit or Miss' is now in rotation. See it on their website here.
Even though they've got a new album out (which you can pick up at a record store near *you*! end sales pitch), I reccommend not only giving that CD a listen...but going the extra mile to track down a copy of 'Nothing Gold Can Stay'. There are four good reasons why: 'Hit Or Miss', 'Winter of 95', '2s and 3s', 'Broken Sound'. Check them out.

Tune in for the next Band Of The Week...PHANTOM PLANET!