THE BANDS
+ barenaked ladies
+ ben folds five
+ weezer
+ band of the week


THE EXTRAS
+ featured mp3s
+ geek-rock webring
+ links
+ contact us
+ guestbook



HOME






Barenaked Ladies


steven page...lead vocals & guitar
ed robertson...guitar & lead vocals
jim creeggan...bass & vocals
kevin hearn...keyboards & vocals
tyler stewart...drums
and...
andrew creeggan...[former] keyboards & vocals

Barenaked Ladies, or BNL as they are known to their fans, formed waaay back in 1988 in Scarborough, Ontario (it's a suburb of Toronto). Steven and Ed, the frontmen, met in grade school and began playing music together when they were 18. The duo of Robertson and Page, henceforth known as BNL, started busking. They met brothers Jim and Andy Creeggan, who joined the band playing bass and keyboards. Soon they met Tyler Stewart, and the five-piece ensemble was complete.
The Ladies released Gordon in 1992. After hearing tunes like 'If I Had A Million Dollars', 'What A Good Boy' and 'Be My Yoko Ono', Canada went totally...barenaked. They'd become the country's favourite musical geeks.
Then, they released the more musically serious Maybe You Should Drive in '94. The true fans loved the CD (and still do, because it's a great piece of musicianship) but it was bashed by critics and the sales, in a word, sucked. Around this time, Andy left the band to pursue his dream of attending university.
With the help of their new manager Terry McBride, the Ladies made an incredible phoenix-like rise back to fame. They completed a killer 117-date tour supporting Born On A Pirate Ship, and they began building a strong fan base south of the Border. Some songs from these concerts made it onto their greatest hits/live CD, Rock Spectacle (which they recorded with their brand new keyboardist, the one and only Kev Hearn).
With 1998 came Stunt, which was not only a killer record, but spawned three singles including the delightfully obnoxious 'One Week', which earned the Ladies a Grammy Nomination (ooh!) and mainstream popularity. Around the release of Stunt, Kevin Hearn was diagnosed with leukemia, but after he took a year and a half off to recuperate, Kev successfully 'kicked cancer's ass'.
Last fall, they released their latest and possibly greatest record, Maroon. They've released three singles from that album, 'Thanks, That Was Fun' is rockin the charts, and Disc One: All Their Greatest Hits actually surpassed Madonna's (friken MADONNA'S!) greatest hits album in Canadian sales.
Fear.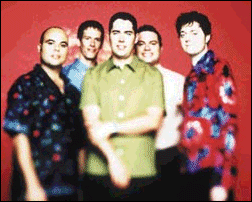 music without borders: 09/23/01